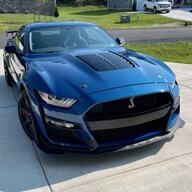 Joined

Apr 19, 2021
Messages
Reaction score

237
Location
Website
First Name

Chris
Vehicle(s)

2020 GT500 / 2019 TrackHawk
Here is my review of my 2020 Oxford White GT500, I will break my review in parts. Day 1:
Buying Experience
It all started from an ad that popped up showing a GT500 at CarMax. It was a Saturday and I did not have plans, so I asked my wife if she wanted to come with me to test drive a GT500 since the opportunity presented itself. My wife is into cars/motorcycles, so it was an easy YES! Keep in mind, I previously owned a 2010 GT500 and wanted a 2020 since they came out however, the ADMs something I was not going to pay. Anyhow, we test drove the GT500 and immediately, the search began! I called every dealer I could locate and finally narrowed it down between a black GT500 and my current GT500. First, the black GT500 had a 30K ADM however, I managed to talk them down and obtain enough for my trade which was a 2019 Z06 with the factory carbon aero package that the numbers evened out. However, I wanted to see the Oxford White as I saw a video and really liked how it looked. Also, I felt that the black hid too many of the details. When I arrived at the dealership and saw the Oxford White in person, it was game over...sold! The transaction was easy and the funny part is my Z06 sold before the paperwork was done, so everything worked out. It was also nice buying a car right from the showroom floor!
Exterior
Let's start from the front, as you all know, the GT500 was designed to flow air to cool the 5.2L Supercharged V8. I appreciate the design and function balance as everything you see has a purpose. The radiator and intercoolers have mesh to protect and allow as much flow as possible. The wickers provide downforce, and the lower lip also provides additional downforce. All of this while looking menacing. Of course, the top hood vent not only looks amazing but also extracts heat. As many of you know, it includes a rain-tray to keep any water off the engine. It is removable for track, daily, or hard driving. Ford designed this to extract even if the rain-tray is present, so it is not required to be removed. However, for any trackday driving, it is highly recommended as the engine temps will increase. Moving on, the side of the car also has lower bodywork to flow air. I will say that front mud flaps are a MUST as rocks will be kicked up. In addition, I bought a filler for the front of the side panels as they are open and allow rocks to traverse the side, which could lead to scratches. The rear spoiler comes with a gurney flap if you buy the handling package, which is also a nice touch as it gives the spoiler a bit more downforce and looks good as well. The rest of the car, essentially follows the S550 panels, which look amazing. Finishing up in the rear, the quad exhausts sound incredible stock, and the lower rear diffuser is aggressive and yet functional. The cobras located in the front, sides, and rear are large, yet fit the car overall. Personally, I love the car from every angle and the Oxford White along with the black painted components all flow perfectly. The painted rims and HUGE Bright red Brembos also add to the function and overall look of the car.
Interior
One of the deciding factors between the black GT500 and my current car was the interior. The black GT500 had the normal seats, and I really wanted the Recaros as not only do they look great, but they are VERY comfortable. I drove the GT500 to Carlisle, which is a 3.5 hour drive and upon leaving the show, we drove around Harrisburg as I am familiar with the area. The drive home was about 5 hours and my wife and I were completely comfortable. Of course, the black/white matches the car perfectly and the support when driving the car hard through turns is exceptional. The interior with the carbon fiber, digital dash, and accents are well done. Also, Ford provides a badge which shows the chassis number, which is a nice touch. I previously owned a Mustang PP2, and always loved the interior, so Ford did a great job. One other important item is the steering wheel, the Alcantara on the steering wheel not only looks good but also helps provide grip.
Engine
Motor is 5.2L V8 with an Eaton screw-type supercharger (same supercharger that is on the ZR-1) and is rated (or should I say underrated) at 760HP and 625 ft/lbs of torque. The reality is that most of these cars are showing "around" 700RWHP. I've been fortunate to have owned a lot of high horse power cars, including my former 1997 Anniversary Toyota Mark IV Supra, which I modified to 865HP (conservative) and while I have not dynoed my car, I have absolutely no doubt that it is well above the claimed 760HP. The power is linear and predictable, in the upper RPMs is where the motor really turns into an absolute beast. This is a great combination as you do not want too much power down low as it causes handling/grip issues, so I appreciate the characteristics of this motor. The DCT combined with this engine, makes the car a true joy to drive. I was a little worried that buying an automatic would get boring however, my Z06 was an 8-speed automatic and the GT500's DCT with it's shifting characteristics, give this car even more personality. I can say that the Z06 never bored me, and I know the GT500 will not disappoint. The motor is responsive and the transmission shifts are so fast, you can miss them if you breathe or even blink....they are that fast. In manual mode, the car is similar to a video game, the shifts are instant, this is one big improvement over the Z06, which had a delay. This is one of those cars that truly lives up to its reputation. There are different modes, the three I use are Normal for cruising, MyMode which I use most of the time, Sport suspension, Sport Engine Mode, and Track Exhaust. And of course, Track, which truly wakes up this car and turns it into what it really is. I'll go into the driving in the next section.
Driving
I have only driven my GT500 on the street, so I cannot comment on road track or drag strip. I have done enough car/motorcycle trackdays and races to say that hands down this car is extremely capable and will hold its own against most anything.
Handling - The car is very responsive, offers a lot of feedback, honestly more than I expected. The cornering is very good and predictable as traction limits are reached. I have been able to drive the car hard on some roads where they are open where no other cars, driveways, side roads, etc... exist and of course within reason as compared to speeds/limits I would reach on a road track. The traction control and grip are impressive as the car will step out slowly and is easy to predict. This compared to my Z06, is a big difference where the Z06 would step out much easier. The GT500 will track straight even when the tires are spinning thanks to the traction control. The turn in and balance are good considering the weight. You can feel the weight of this car, and the Brembos do their job and stop this car FAST without any fading. Overall, it's an easy car to drive however, the speeds do increase quickly, and warrant respect and awareness of speed.
0-60 / 1/4 mile - The best I have been able to get is a 3.6 0-60 and I have not yet ran it in a 1/4 mile test however, familiar tracks I have raced show 10.7's to 10.8's at low to mid 130's which is about what I would expect. It still blows my mind that a factor stock car on stock tires can run 10's it truly speaks to how well Ford did with this. My Z06 ran a little faster 0-60 where I was able to get a best of 3.3 seconds however, the top end was not as fast as the GT500. If someone is lining up form a stop, they may get ahead for a bit however, once this car gets going, good luck! Of course, from a roll, I think the GT500 is simply hard to beat. Of course, there are faster cars however, stock VS stock there are not many.
Overall, I am extremely happy with my car, so far so good....it has been solid and I have been fortunate not to have any of the issues some have experienced with the TSB for the timing chain guides, transmission issues, or the rattles. I drove mine moderately and I do not abuse nor do I baby the car. Also, I let the transmission warm up before doing any hard driving. I love driving it, I honestly do not have any complaints other than the same one everyone else has, which is the range. So far, even with a long trip that was not an issue, so it would be nice to have a bit more range, yet it has not been necessary.
Last but not least, the only downside is cold weather and rain. Of course, in the cold any drives will be very tame and I try to avoid rain as much as possible. I suppose that is where I have an admiration for my wife's Jeep Trackhawk, the weather and traction are not an issue thanks to the all wheel drive. Aside from all that I am very happy and plan on keeping the GT500 as long as I possibly can. I feel fortunate that I am able to have these nice vehicles!
I hope this review was useful!