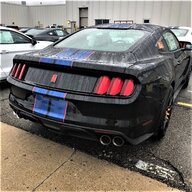 Joined

Jun 9, 2015
Messages
Reaction score

4,579
Location
Vehicle(s)

2015 GT350 - 2018 GT350R Base Model
100% agree if they would have followed with the blue interior badging and stitching throughout - it would have made it so much better. You know why they didn't do it though. They took the stock seats from the 18's and threw that in the HEP with the 19's getting the red lining. This way they didn't have to manufacture anything new. Bit lazy if you ask me but I guess for ~280 HEP cars it wasn't worth the custom work and probably would have cost way more to produce. I still would have paid more to get it.

I thought about going to bemaro to get some blue interior overlays but to me it's all or none. Either you are going to re-do everything in the interior from red to blue or just leave it as is. (My opinion)
Appreciate your comments but suggest that the Blue stitching was not so much a situtation of being lazy as it was not being able to get the manufacturer to complete Blue stitching in time for the launch of the first 2020 HEP cars in February/March 2020 plus some other factors that came into play.
Keep in mind that the 2020 GT350 HEP launch never got final approval from Dearborn until late in 2019 and was not launched until December 2019 therefore there was really not a lot of time left in order to get the Recaro seats converted to Blue Stitching and as you mentioned the decision was then made to go with the 2018 R model seats which were just plain black.
Also, keep in mind that the 2020 HEP Package was predictated on Bill Ford having the very last 2020 R HEP model and was also subject to him having the only 2020 HEP R with painted Guardsman Blue Ott stripes, Blue seat inserts along with Blue stitching, painted Blue brake calipers and the very last 2020 HEP R chassis number.
Like you I would have paid more for not only the Guardsman Blue OTT painted stripes and also for the Blue seat inserts/stitching and the Blue painted brake califpers but there is much more to this issue than meets the eye which includes Bill Ford being guaranteed a 1 of 1 car and also the very last 2020 R model which he got with his cool 1 of 1 car sitting right beside the very first 2015 R model namely "F0001".