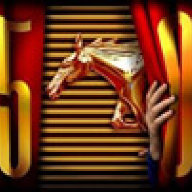 Administrator
Administrator
UPDATED 8/9/16 WITH VIDEO & ADDITIONAL PHOTOS:
[ame]
=============================================================================
8/2/16:
The 2018 Shelby GT500 was just spied for the first time while leaving Ford's Dearborn Development Grounds!
The S550 GT500 prototype disguises a modified front end that will surely build upon the 2018 Mustang cosmetic refresh that is widely expected. Its outline shows deep breathing intakes and an aggressive bulging hood hiding its forced induction powers underneath.
This hot Mustang prototype was riding on aggressive Michelin Pilot Sport Cup tires, and featured Brembo brakes with cross-drilled rotors. In the rear it shows a large fixed wing and quad-tipped exhaust similar to the GT350.
One thing that
could be
very telling on this prototype is a windshield sticker that reads "TT-0081" which is the same TT designation that has been spotted on Ford's SVT Raptor pickups (pictured below) which also uses a twin-turbocharged engine.
Based on the information we've received and this potential tipping of the hand, it is very possible the next iteration of the Shelby GT500 will sport a twin-turbocharged V8.
Our glimpse of this new prototype was fleeting as it dodged and weaved its way through traffic to escape being filmed, but what little was heard by our photographer's ears (and unfortunately not captured on video) sure sounded like it could be a fire-breathing twin turbo V8 engine. Whether the production vehicle will leverage Ford Performance's engineering feats with the GT350's 5.2L flat plane crank engine or utilize an even higher displacement twin turbo V8 as we have heard mentioned, remains to be seen.
One thing is for sure, the horsepower wars are not over as we have been told the 2018 Shelby GT500 will crank out some massive power. That would be a fitting counter to the 650 hp Camaro ZL1 and the 707 hp Challenger Hellcat.