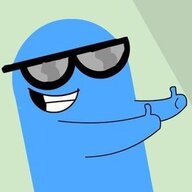 Joined

Feb 25, 2021
Threads
Messages
Reaction score

1,592
Location
Vehicle(s)

Datsun wagon, 92 240SX, 08 Evo, 20 Mustang GT
...I will probably return the crap i ordered then and look around more carefully and be patient.
If that's on the table, it opens up a lot of options.
I've been interested in this thread partly to compare to my existing ideas for if I ever take my Mustang to run laps with the sports car clubs.
I have to admit Vorshlag Motorsports and this meme have been a bad influence...
I wanted to make assembly simple by getting wheels with appropriate offsets, but there's the big question of: If that day comes, how much do I want to spend?
So I wrote down some options to remember:
My "cheapskate" plan was to get SVE's copies of the Mach 1 HP wheels, which includes 19x10 in front and is $1200 for the set. Your 275 and 305 tires would fit on those.
https://lmr.com/item/WK-351913/sve-mustang-mhp1-wheel-kit-19x10-11-gloss-graphite-15-22
You could also get the GT350R 7-spoke look in the same sizes, for the same price.
https://lmr.com/item/WK-177913A/mustang-sve-r350-wheel-kit-graphite-19x10-11-15-17
They'll sell you a staggered set or a set of four 19x10s for the same price.
(With that plan I have the risk that I'll be slower than someone with a Mach 1, blame my "small" wheels and tires, and want to buy bigger ones later.)
If I feel rich the day I'm buying, my "Do it right so I never have to do it again" plan was to get a set of four 19x11 wheels from APEX.
https://www.apexraceparts.com/shop-...tang/19x11-et26-apex-sm-10-mustang-wheel.html
That would be about $2100 for the set of wheels.
Last edited: