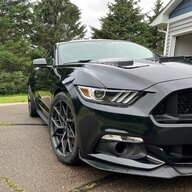 Joined

Nov 26, 2014
Messages
Reaction score

5,889
Location
Vehicle(s)

Mustang, Fiesta
I agree with

@Hack

- something isn't right. I have a 2016 tech pack, have owned it for all five years of it's life, and never had a limp mode issue on the street. Even in 110 degree summer weather. It isn't a daily driver, but is nearing 20k miles, so it does get driven.

I have had limp mode on track, but never on the street. I always got a message once it reached limp mode too.

I know this is a touchy subject........but I don't think I could induce limp mode on the street if I tried. Maybe others have different levels of sensitivity to other's scrutiny, but I think I would have to be doing some relatively crazy driving to get the trans that hot.

It is interesting that it happens after you park it at a car show. In the cases where I experienced limp mode on the track, it cooled between sessions (40 minutes or so) such that I could go drive hard (at least what I call hard - I'm no track junkie) for another 5 to 7 minutes before it got too hot again.
My experience on track was similar.
I did get my car to go into limp mode on the street. Basically it was about 95 F outside. I drove my normal commute home. I had the dash transmission temperature reading turned on using Forscan and at the time I knew what temperature the transmission had to get to in order for limp mode to kick on. During my 25-mile commute I kept in in lower gears, revving close to the red-line and keeping it over 6,000 rpm almost all of the time. This was in rush hour traffic, so it was pretty limited how much I could do. At the end of my commute the transmission temperature was almost high enough to put the car into limp mode, but not quite there. I found a deserted road and did several 0-60 pulls in a row winding the engine out each time and then I got hard on the brakes. In the end it went into limp mode.
So my conclusion at the time was if the car is working properly, you have to really try hard to get the car into limp mode on public streets (while obeying speed limits and such) at even the hottest temperatures we get here in MN. I'm sure if you had a deserted road where you could safely drive over triple digits for a long time you might also get into limp mode, but there are no roads like that around here.
Track is a different story.