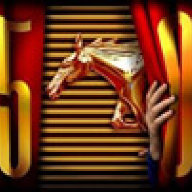 Administrator
Administrator
We now have our first quality photos of the 2015 Mustang's interior, providing our first look at the prototype's undisguised center stack. Our latest reveal goes deeper still with a quick look under the camo--taken from an inside-out perspective--revealing some never-before-seen elements of the Mustang's roof line and C-pillar design.
Modernized Center Stack
We came upon a Mustang prototype at rest, and managed to get our first look at the next-generation, S550 Mustang's modernized center stack. The new 'Stang looks ready to utilize the full suite of Ford's in-car infotainment technology, with a large LCD screen sitting atop the stack, and an orderly collection of buttons and switches residing below. We're pleased to see a simple volume knob, and no sign of capacitive-touch sensors.
Button Breakdown
Volume and menu functions sit at the top of the button array. Next down are the HVAC controls, flanked by buttons for heated--and cooled--front seats. The bottom row of buttons contains the Start/Stop button, a toggle switch for the hazard lights, and another toggle switch that appears to be for traction control. The rest of the lowest row of switches is unfortunately blocked by the test driver's computer. We also see an early, unfinished shift knob with a round, ball-head.
BLIS (Blind Spot Information System)
The driver side view mirror reveals that the 2015 Mustang will also be equipped (or optioned) with BLIS, Ford's blind spot detection system. The graphic you see on the mirror matches that of the BLIS mirrors from other current Ford models.
C-pillar Details Revealed From Within
Given the very heavy camouflage applied to the roofs of the Mustang prototypes, we realized that the only way to get a feel for the styling below was to see it from the inside. We took advantage of our ten-second peek inside the 2015 Mustang, devoting a few seconds to grab some shots of the rear seats. The result was telling, revealing the final shape for the rear quarter window, and giving a better feel for what the true roof line is doing under all of that camouflage.