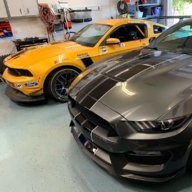 Joined

Sep 3, 2016
Posts
Reaction score

33
Location
Website
First Name

Chris
Vehicle(s)

2016 mustang GT350 Tech Pack, 2011 Mustang Racecar, 2011 Raptor
Selling because I need to get the 5.2L version for my road race build. brand new unopened pump. Includes new Oil Pick-Up tube - Ford (BR3Z-6622-A - recommended to use a new tube when changing pumps to ensure cleanliness). After using these pumps on 2 engines now I'm a convert (and had previously run MMR, TSS, and FRPP pumps/gears).
$300
From the manufacturer:
The Coyote Motor oil pump from Boundary utilizes the Ford OEM housing which fits all Coyote Motors except the GT350.
All assembled billet pumps undergo the following:
-Pump is completely taken apart, all parts under go ultrasonic cleaning, air blast, and hand inspection.
-Pump is hand de-burred.
-Gear set is cut in house from hardened 4140 chromoly steel billet.
-Stainless Torx heads replace the stock fasteners
-All fasteners are torqued to spec
-Loctite applied to fasteners to prevent back out or loosening
-Anaerobic sealant applied to critical areas to boost pump up speed and reduce aeration.
-Assembly lubricant applied to all critical surfaces to insure fast initial pump up and lubricity on start.
-Parts are blue printed and issued with specification sheet.
(note today's date written on box, but I for some reason used a roman numeral for february. One of those days...)
Last edited: