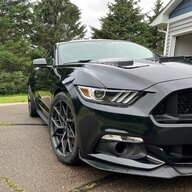 Joined

Nov 26, 2014
Messages
Reaction score

5,777
Location
Vehicle(s)

Mustang, Fiesta
Both the Mustang and a Tesla are machines. Neither has a soul, that's a projection or personification.

I've been in a Tesla being driven hard in a motorsports event. It was a thrilling experience. Its a different car but its not missing some 'core' essence. If you can ride shotgun in one and not crack a smile, you're the one missing a soul. If you find the auditory experience lacking, play the radio.
You're being too literal. I don't think you really believe someone is saying soul meaning a gas powered car is alive. I think really you understand, and you have no answer for it, so you choose to pretend you don't understand.
People turn off the radio in their car because they prefer to hear the sound of a gas engine. This is not an uncommon thing. I shouldn't have to tell you this.
The radio, artificial engine noises from car's speakers - none of that stuff compares to the enjoyment people get from listening to a really well built piece of machinery making power.
I'm sure riding fast in a Tesla can be thrilling. But the radio is a poor substitute for the sound of an ICE at full song.
You should read the Car and Drivers Best EV of the Year. They evaluated 11 EVs to include 3 Tesla's. The Ford Mach E won and the Tesla's finished last (mostly due to their poor quality).
I think Ford's advertising budget for the Mach E is quite large. I noticed there has been an awful lot of coverage for the Mach E in the automotive press. One show I watch that usually has different vehicles every time featured the Mach E on three episodes in a row. Maybe I'm too cynical of a person, but I doubt whether C&D best of the year is proof that I would prefer the Mach E over a Tesla. If I were in the market for an EV, I would do my research rather than trust this.